I did it! I managed to finish València's olympic triathlon!
On Saturday, as planned, I went cycling with Kiko through one of his secret circuits around Betera. After 30 very slow kilometres we were back at his house, got our Orca wetsuites and went to the swimmingpool to have a relaxing swim. Kiko has an Ironman wetsuite, but for this triathlon he got Vicente's Orca Speedsuit to give it a go. He was delighted with the difference, and is now thinking about getting one for next season. :) Orca just rules.
On Sunday, alarm clocks set off quite early, at 7AM. After a good breakfast and the final preparations, 4 triathletes set off from Benimaclet to the Cabanyal beach, and soon after we were queuing at the boxes entrance, with time running out to set everything up, put on our wetsuites and get started.
I somehow forgot the mandatory swimming cap at boxes, and the minutes I lost going back prevented me of warming up at all, a bad way of starting an adventure that couldn't end up well anyway. Also, my felt the wetsuite wasn't too well placed and it was a bit unconfortable around my neck and armpits.
A few minutes late, the judge let the triathlon start and people rushed into the sea. I wasn't in such a hurry, and started swimming slowly, in an attempt to get a bit warm. Sooner than expected I found myself walking out of the water after completing the first lap, and the second 750 metres were a lot better, and I even could push water a bit harder. When I got out again I looked back and saw so few people that it felt strange, as I normally leave behind a lot more people in the swim.
Got the bicycle after a clumsy transition and set off for the 40 kilometres. This year the circuit was slightly modified with respect to other editions, and we would go all the way to the West gate of the Universitat Politècnica de València and come back through Eugènia Vinyes, to the boxes area. My tactic was to absolutely not try to do anything that would consume my legs during the cycling, if I wanted to stand a chance in the run.
The idea was to do an average of 27kms/h or so, but in the end I did something like 33, as I felt it was going alright. I refused to join any packs that came from behind, because with so many roundabouts and bends it was hard to reconnect every two minutes, and I couldn't care less anyway. Of course, I was literally run over by the race leaders, which were probably cycling at 45kms/h, and other leading packs hosting some of my teammates. Another weird feeling...
When I completed the first 20 kilometres I wished it was just a sprint triathlon, because I would be so close of finishing. Luckily the second 20 felt a bit easier and soon I was in boxes, putting my running shoes on for the toughest part.
As soon as I started I thought "ok, there's no way I'm going to do 10 kilometres on these legs", as a few pains started to appear just on the first metres, specially on my left heel. The running segment was totally confusing, as you had to go back and forth 4 times just to complete one of the three laps, so at first I didn't know too well how much was left to finish the first one. When I learned that doing that 4 times was just one lap, I nearly give up, but luckily the fans at the finish line area (hi Paula and friends :) made me reconsider and start the second lap.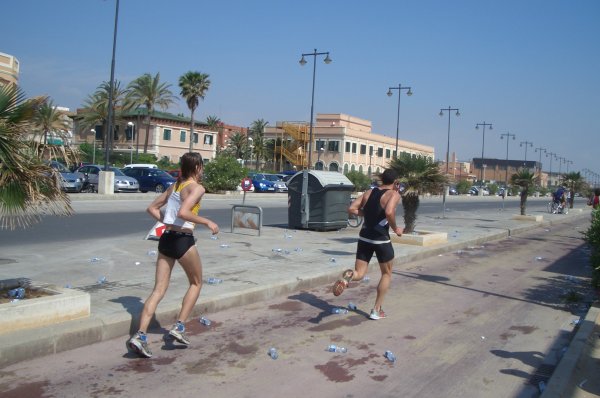 "Only" 10 kilometres to go
Soon after I started getting a few warnings from my right quadricep, "dude, calm down a bit or you'll regret when I explode", so I had to stop for a minute to stretch a bit. By then, most of my Komando teammates were done running and celebrating at the finish area, but I still had around 6 kilometres to go. When I completed the second lap, my quadricep was totally upset and hard as a stone, but having completed most of it there was no way I was going to stop. A bit more, and I crossed the finish line with 2:35, a lot less than what I had estimated in the case that I finished.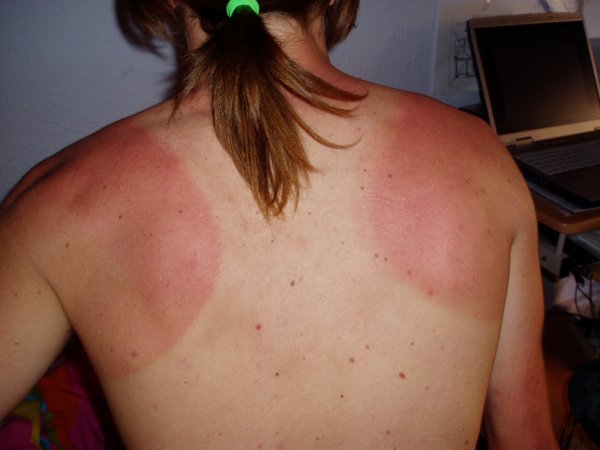 This is all the reward I got for finishing
Some of my teammates did quite well, specially Montxi who is demonstrating this year that he could be in elite class if he wanted. I'm happy not only for having finished the strangest race ever (before starting I had no clue of where, if I would, abandon, because my phisical condition was a mystery), but because it has given me a good deal of motivation for the rest of the season, which now starts for me.
Next races: Santa Pola in two weeks, and Antella sometime in July, both sprint distance.