A few weeks ago I was trying to get GRUB2 for PowerPC back to work on my PowerBook G4 15", and had some problems getting OF doing the right thing. Not being an OF expert at all, I found myself making things a bit worse, ending up with an unbootable laptop and, what a classic, unable to boot my old rescue CD to get yaboot back in its place.
So I googled a bit and ended up deciding that, given the boot parametres and some other stuff like the system's clock were doing strange stuff, reset-nvram would help getting things in a better shape that would at least permit CD booting. So there, reset-nvram, followed by reset-all, as found in all the OpenFirmware cheatsheets I found all over the web, and damn it, nothing changed and I was back into the OpenFirmware prompt. I used the power button to reset the laptop once again, and that was the last time I saw something functional on the PowerBook.
Now, when I start the computer, all I hear is the Apple startup sound, followed by the sound of the CD drive (which has eaten an Ubuntu 5.10 CD) trying to spin up for a pair of seconds, and then nothing. There's nothing displayed on the LCD, or any other sign of "life". My searches in Google indicate this is a logic board failure and you can imagine that is not cheap to get fixed by Apple support.
I've tried numerous keyboard combo tricks I didn't even know about, and none seem to work. The computer doesn't seem to be responding to the builtin keyboard, an Apple USB keyboard I borrowed, or an external display. I'm annoyed because I've looked after this laptop really well and it was in a really good condition, so I'm going to see if it can be fixed for a reasonable amount.
Apple care in València is not an option. They say a logic board (if this is really what is causing trouble) costs around 500€, so I'll have to explore other ways. The first one is trying to find out if these symptoms (nothing on the display, key combos don't appear to work, etc.) really point to a fried logic board or could be something else. I've tried removing the RAM and replacing it with my old one, but that didn't work either. So, if anyone reading this has some Apple PowerPC hardware experience and can share some of their knowledge and suggestions, I'd be really, really grateful.
Plan B involves hiring a coworker, who I believe is the son of McGyver, to try to get it repaired for me. This would involve buying spare parts in eBay or some other place to try to get the replaced. Again, suggestions, donations and ideas are welcome in this front too. :)
Jose Vicente loves fixing stuff, and right before the Summer he already showed what he can do with a screwdriver and some patience. Some weeks before, I had managed to shatter the LCD screen of my Nokia 6500s when I lost my grip while climbing down a mountain in El Cadí, and the phone in my pocket hit a big rock. The phone worked, but I all I could see in the screen were some cracks in random colours. People suggested I should get a new phone, but I really don't want to generate even more polluting waste when all that was needed was replacing a cheap component.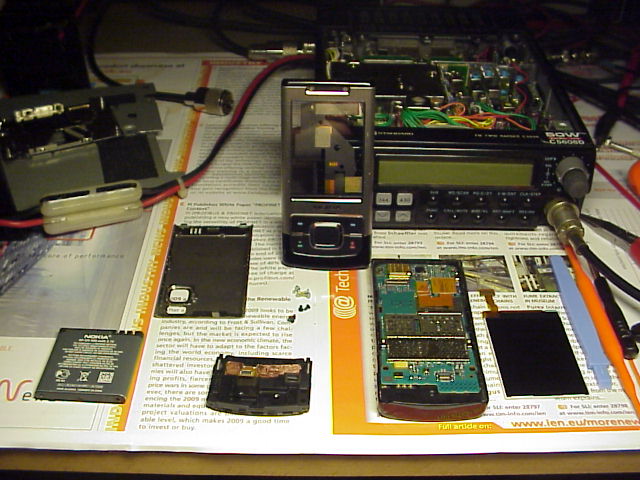 My phone during its stay in McGyver's hideout