Last Saturday I was in Cullera's triathlon, as an spectator, as many of my teammates were going to run there. I had a great time there watching the tris, watching the swimming, the cycling, the running, commenting with people how the race went for them, etc. After watching the elite series, a wild idea started invading my mind: I wanted to come back, and as soon as possible.
Two days later I mailed the team's mailing list and asked everyone about how crazy would it be to do my return to the triathlon world during València's triathlon, just a week away, and this year in Olympic distance format. Of course, many reasonable people said it was a bad idea, with no training at all, and that I should focus on Santa Pola and Antella, which are sprint distance and later on during the season, so I have time to train a little and get minimally prepared. The major part of the people who replied told me to ignore them and go ahead and participate.
On Tuesday, first thing in the evening was to go to the Valencian Federation to do a 2005 licence. With the licence, I guess I'll have a reason to run more races because if not it'll be a complete waste of money. I also registered for València's Triathlon.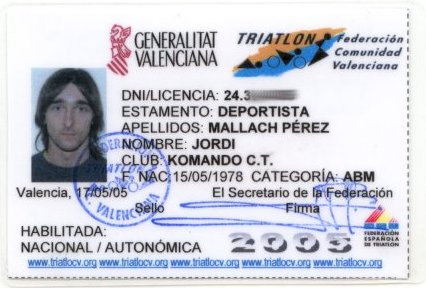 Evidence that I'll be fucked up on Sunday
My preparation for this race is: 50 minutes of running on Tuesday; 1.200 metres of swimming on Wednesday; some other 1.200 of swimming on Thursday, in the sea and using the wetsuit to get used to it again; and some cycling and swimming on Saturday morning. Not too impressive...
I've had this feeling of fear in my stomach since Thursday because I know it's going to be quite difficult to just finish it, as unfit I am right now. Just finishing the swimming will be hard, as there'll be around 400 people punching and kicking me all over the place, and the organisation makes you do 750 metres, then go out of the sea, run to the starting point again and swim the other 750, and that's exhausting.
If I manage, I'll face the cycling, in a entirely flat circuit, which doesn't suit me at all (I'm a lot better at climbing steep roads). I haven't trained the bike in 5 months, so I'm scared about this one.
Depending on how hard I need to work on the 40 kilometres of cycling, I'll "just" have to run 10 kilometres on a completely hard surface. The good thing is that for the first time, it seems there'll be quite a big number of known people spectating, something that will surely help me keep the morale up. In theory, running is what I'm best prepared for right now, but it all depends on how fucked up my muscles are after the cycling.
The only goal on Sunday is to finish uninjured. I'll have a happy week of vacation ahead to recover from the effort.