Tomorrow, at this time, I'll probably be unsuccessfully trying to find a comfortable position on a seat of the Bilmanbus to Irun. Very early on Saturday, as soon as we get off the bus, Maria and I will quickly head to Hondarribia's beach in Cape Higer to symbolically wet our feet in the waters of the Cantabrian Sea.
We won't have much time to enjoy the cold waters of the ocean, though. Soon after that, we'll have to take a deep breath, look East, and start walking if we want to achieve our utmost objective: take a bath in the beautiful beaches of the Cap de Creus, in the Mediterranean sea. In between, 30 days and 840 kilometres of thick woods, deep valleys, high peaks and cold waters, all of which shape incredible landscapes.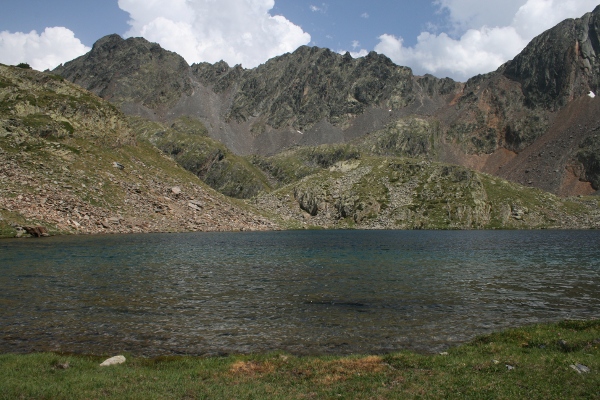 The Portella de Baiau, during our 2008 trip
For a whole month, we'll be mostly disconnected from everything else that isn't our knee ache, our blisters, the Sun over our heads or where to get food. It's the first time I leave on a hiking trip as long and tough as this one, and I feel both uncertainty and eagerness. We've been so busy during the last few months that we've been unable to train at all for this, and I'm probably in the worst physical condition in a decade. It's too late to take care of that now, so we'll try to take good care of our legs and spine.
In order to get back home in the Mediterranean, we'll have to be fast, some days joining two stages and skipping a few that we know are not that interesting (sections over asphalt, etc.). It's hard to make it in just one month, but we'll try our best. The plan is going to sleep not long after sunset, getting up at dawn, to be able to walk for a decent time before the heat starts being a handicap and just resting at midday, when the Sun is strongest.
Of course, this means that I'm missing, yet again, this year's edition of DebConf in New York City, which is really sad because I was looking forward hanging around with Mako, Mika, Biella, micah, Clint and the rest of the NYC/ Boston gang, but when the idea of doing a long trip this summer popped up around January, it was clear DebConf seemed unlikely this year. I hope all of you have a lot of fun, and see you in a few weeks!