Last month, Belén and I managed to secure our trip to Tunisia on the very last moment. So, planning trips on the very last moment isn't nothing new around this place, but we made a big effort to take things to the limit.
I can't remember why exactly, but on January 31 we were *so* close to fucking everything up before it started, when we packed our stuff just a pair of hours before having to leave to the train station. My luggage was prepared in a rush, so while I think I took everything I thought I'd need, I didn't really select my clothes too much. The idea was to have our suitcases mostly empty to bring back stuff from the markets: smoking cachimbas, lamps, leather stuff, etc. At that time I didn't know that would end up being a great strategy.
Anyway, like 9 minutes before the train's departure we were stuck in Nuevo Centro without a taxi and at that point I really had lost hope about being on time. For some reason, there were no taxis in the area, when it's normally a place where there's tons of them. Suddenly one appeared, we rushed in and I asked the taxi driver to please fly to the station. Happily, we got an incredible green wave around the avenues, he drove us at like 80 Km/h and we even had to wait for a few minutes at the station.
In Barcelona, we prepared our small New Year's Eve dinner with my cousin Laia and Marc, and while the plan was to go to sleep pretty early to be in good shape to go to the airport next morning, the bottles of wine and cava emptied quite fast, and around 4:30 we were quite drunk when we decided it was enough. When some annoying sound woke us up next morning, it was really late, so we again rushed out to the empty streets of Barcelona, sneaked into a regional train, without knowing it was the only way to get in time in El Prat airport, and after some initial confusion trying to find the travel's agency desk in the wrong terminal, we managed to check into our flight, being the very last to do so. With all the rush, I couldn't get some clothes from my suitcase transfered into my hand luggage, which I really wanted to do after my nice lost luggage experience during Debconf 5 in Helsinki. Anyway, chances are small that your luggage gets lost, right?
But of course, Murphy is always vigilant, and this was a great opportunity to fuck me up. After a short but horrible (due to our really bad hangover) to Tunis/Carthage airport, we were in the long security/passport check. When Belén picked up her bag and mine didn't appear, I tried to tell myself "hey, it'll appear, no worries!". After 15 minutes, the stupid suitcase was nowhere to be found. Apparently, another two pieces of luggage had the same luck, which made us contact a group of four Uruguayans who were missing one of them.
Nothing too terrible; it'll surely come on tomorrow's flight. After reclaiming our lost luggage, we went out to the parking where a bus was waiting for us, and on the way there, the six of us nearly fell into the first Tunisian scam, involving a dude selling jasmine flowers at 2€ each. The bus took us down to Jasmine Hammamet, the most touristic place in Tunisia. Valencians might have an easy imagining the atrocity of the area by picturing what twice Marina d'Or plus Benidorm including Terra Mítica would look like. Kilometres and kilometres of a disgusting "Who can build the most horrible giant hotel right next to the beach" contest.
So it was pretty clear we had to spend as little time as possible in the area. We soon learned about how transport works in Tunisia. The cheapest is to use the public busses and the luagge collective taxis, we soon found out. Our first morning there, our guide Rejeb, working for Iberojet and Solplan touroperators, gave a talk where he advised us against travelling alone, specially around the South, while he offered organised trips around the country for every day of the week. Although we expected this "danger!" speech, we decided to book the two day trip to the South and Great South of the country, basically because it was the best way to see many places in a short time, even if it meant having limited time in each destination.
We wandered around Jasmine Hammamet and discovered Carthage Land, sort of a Disneyland set in the age of Anibal and Carthage's empire, which was inside a newly built medina complex. This was a really bad place to practice the art of haggling, as the place was so desert, merchants really tried hard to get you buy something. Again, we were close to fucking up after our first negotiation, but we finally decided we weren't so interested. Lucky, we later found out the price was outrageous.
Sadly, we spent way too much time in that tourist trap, and we found it was too late to go to the real Hammamet town to see a real medina and real stuff, so we had a long walk around the immense beach until sunset. On Wednesday, we did organise a bit with the Uruguayans and some others we had met: María and Santi "Kuchi Kuchy", Cristina and Pedro and an Argentinian family, and managed to hire a van driver to drive us all over the North. For quite a good price, we were taken to a few ruin sites in Carthago, now mostly a residential area, and it was really impressive. While the condition of many of the remainings is not optimal, it was exciting to see things which had been built by Phoenicians and Romans 2,000 years ago. I really enjoyed the remainings of the Antonine thermal baths of the city. It had been a huge building right next to the sea; one of the standing columns helps figuring out how big it had been. Right next to this site, the Presidential Palace dominated the whole gulf. Military places are treated zealously in Tunisia, and it is against the law to take pictures of any bit of it, not even a barbwire of the fence. The Palace had a great Tunisian flag waving over it, and many signs advised you against taking pictures in that direction. I couldn't resist.

The ruins of the Roman Antonine Baths
After Carthage, we went to Sidi Bou Said, a small touristic town, which had the peculiarity and beauty of having all windows and doors painted in a beautiful light blue colour. Our last stop for the day was in Tunis, where we visited the most amazing medina of the whole week. Unlike the new medina in Jasmine Hammamet, this one was literally packed with people going up and down the maze of very narrow streets. Every few metres you'd come across a new, attractive smell coming from the few salons de thé or spice, leather or perfume shops. Here we finally started developing our haggling skills, and managed to get a few items for reasonable amounts.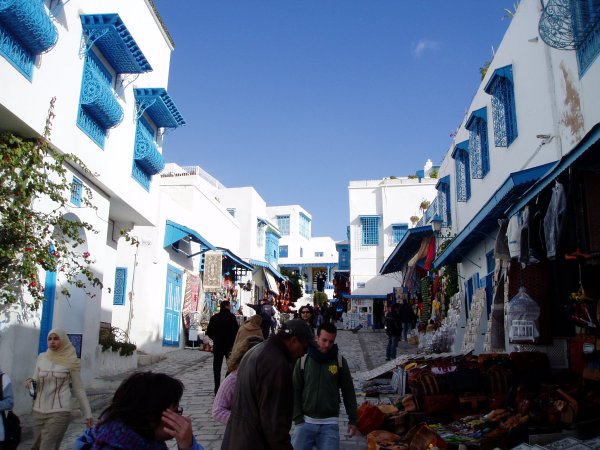 Streets of Sidi Bou Said
Back at our hotel, everyone tried to get a quick dinner and go early to bed, as next morning we were taking a bus for our trip around the South. There was time to call yet another time to the Airport, to find out that one of the luggage pieces had been found. While there was no news about my suitcase, we shared a taxi to the airport to pick the found suitcase, and see if mine was actually there by any chance. Unluckily, it wasn't, so I wouldn't have any clothes for the desert visit. Some people in the group were kind enough to lend me some t-shirts and pants. For my underwear, I actually resorted to using some of Belén's (no kidding, it was way too sexy :P), while mine dried up after some manual washing.
The alarm clock went off at 5:15 or so, and soon after we were ready in the hall with our small bags. When the bus was ready to pick us up, the guide said we weren't allowed in, as we weren't on the list. WTF? We were nearly the first ones to book and pay for it! So he finally let us in, for a short while, until he realised there was no space for everyone, so he demanded that we got off. Of course, we didn't, and a long and very disgusting argument started between the guide, us and a few people who had seen us pay for our trip, and were trying to support us. To make a long story short, we ended up stepping down when I noticed the bus driver calling the police, and after Rejeb, our guide, told us the other bus would be waiting for us at the travel agency if we quickly took a taxi there. We of course knew that was a fantasy to get the bus moving, but dealing with the police at 6:30AM wasn't on my list of activities for the day, so we finally gave up to let the rest of the people get in time to their visits, as they were very tightly scheduled to make everything fit in two days.
Nobody was waiting for us at the travel agency, but we were promised our money back, which did happen in the evening; our plans for Thursday and Friday were a bit broken though, and the rest of the morning was spent looking for alternatives. When we had managed to book a new trip in a different agency for Saturday, we took the bus to Nabeul, the capital of the province, well known for their medina specialised in pottery.
In Nabeul, we lived a tourist trap which I found to be quite original. Not having walked 3 metres into the city walls, some young dude stops us and tells us that he knows us, as he works in the restaurant of "our hotel". I totally didn't remember his face at all, but why not? So he quickly tells us Nabeul has good carpet workshops, and her sister is working in one which is regulated by the Government, and you can only visit two days a week. Coincidentally, Thursday is one of them! So he literally grabs us by the arm and takes us to one of the streets perpendicular to the main market street, and we enter a carpet shop. To the right, his sister probably being like 45 years older, is knitting a nice carpet on the loom. And a few seconds after, we're taken upstairs, where a "Teletienda" show starts before us. Without being asked if we want to buy a carpet, some other dude starts to unroll carpets and more carpets before us, talking in some very basic Spanish. While we're offered jasmine tea, which is really nice, Ali "the brother" quickly excuses himself and vanishes, leaving us with the salesman, which continues unrolling more and more before us, now helped by someone else. When 10 minutes later we convince them that we won't buy any carpet, he asks a donative for his young employee, who has unrolled and will now roll back a zillion carpets. Back in the hotel, we have dinner with a pair of Catalans from our flight, and when we tell us about the carpet place, they tell us they went over the same story like one hour before us!
On Friday, we got some advice on other places to visit, and decided to go up to Cape Bon and visit Kerkuan, the only important remainings of a Punic city which, when conquered by the Romans, was destroyed to the grounds, but not rebuilt on top (they were busy with Carthage). Romans did an excellent job when destroying cities, and the result is a site which still lets you see perfectly how a small town (around 1,500) looked like 2,000 years ago.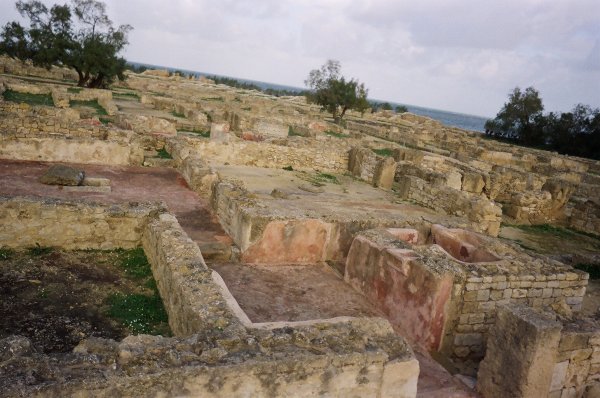 Ruins of a Kerkuan neighbourhood, with their red bathrooms nearly intact
To reach Kerkuan we had taken the bus up to Nabeul and then our first luagge to Kelibia, where we took a taxi (after no less than half an hour arguing in French with the taxi driver to settle on a rate for a ride to Kerkuan and then to the tip of the Cape in El Haouaria. Luagges are undoubtedly the best way to travel medium distances for very little money, while getting mixed with locals. During our ride up North, we chatted with a nursing student from Kelibia who was going back to her town for the weekend. She was really open, like most of the people we found in Tunisia, and we ended up exchanging our post addresses; we still need to send her a postcard from València soonish. This area wasn't so touristic, so the roads, while totally acceptable, weren't as good as the highway from Tunis to Sfax we were used to.
We had seen some bits of the local "driving skills", but the luagge driver performed some of the most extreme overtakings I've ever seen. These happened every three of four minutes, so after a while I was actually amused about what was going on. We would overtake two lorries on one go when there was absolutely no visibility; if things went too far, people would just slow down to let the overtaker get back into his lane on time, and those coming ahead would just use their headlamps to make them know it was just a bit too close.
The taxi driver, annoyed at us, took us to Kerkuan but didn't wait for us; he immediately left, leaving us without any transportation in the middle of nowhere. After a visit at the site, we walked around 2.5 kilometres back to the main road, where we decided it was too late and risky to continue the journey up to El Haouaria, so we waited on the road gutter for a taxi. The first one which stopped was, to our surprise, the same bastard who left us one hour before, who stopped, laughing at us a little. Luckily some other taxi came by in the correct direction, and soon forgot about that man.
After a taxi, luagge and bus ride, we were back in Hammamet, and the desert group had already got back from the two day trip. We were asked over and over what happened, what did we do, etc. People who hadn't talked to us before would come over and see; we were really surprised about the warm welcome we had. After dinner, we improvised a customes party, and many people managed to dress up in Tunisian/arabic fashions using bed sheets and so on. We had to wake up at 5AM next morning, but didn't go to bed until 2AM.
Nothing could go wrong this time. We had our tickets, we had confirmed we would be going on Sunday the night before, so at 6:15, our new guide came in, and came straight towards me. He said something in German, and after I told him I spoke absolutely no German, he said "huh, well you know the bus is full of Germans, and my indications will be in German?". Pretty incredible, but again a fuckup by the agency. My ticket said, clearly: Sahara safari. Bus + 4x4. (ALL). Turns out "ALL" meant Allemand, not "everything included", although we had requested English pretty clearly. This was quite a minor problem though, after having no clothes for a whole week and having been left behind two days before.
I think we were really lucky getting that German group, though. We were only 16 people on the minibus, making the stops a lot faster than the normal ones, where 55 persons need to get out and in of the bus. We had our own Routard guide for Tunisia, so we could read about the places we were about to visit before getting ther. Also, I surprisingly knew much of what our guide was talking about, just missing the details —he talked about oil production in Tunisia compared to Spain's, among other topics—. When the landscape was becoming drier and drier, Belén and I spotted something dark far away ahead in the completely straight road. As it became bigger, I started thinking it might be the #1 place to visit for me in Tunisia: El Djem's impressive Roman amphitheatre.
When we got off the bus, I was totally excited. Before me, the walls of an incredibly well preserved, huge Roman building; in fact, the best Roman ruins in the whole continent. El Djem's amphitheatre was the third biggest of the Roman empire with 35,000 seats, only surpased by Rome's and Capua's. It remained mostly intact until the 17th century, when some of its stones were used to build the city and some of the treasures taken to the Great Mosque of Kairouan, but when it took more damage was during two consequent wars, when the Turks didn't have many problems to blow part of the wall away using cannons to end up a siege of the city.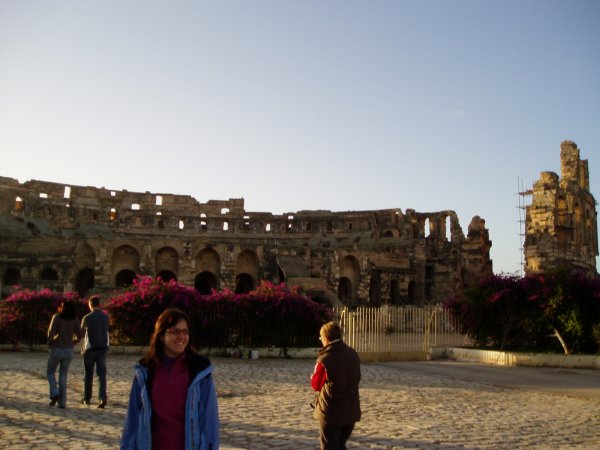 The Roman amphitheatre of El Djem
The underground tunnels are intact, and it's difficult to not have flashes of Gladiator while walking under the arena's trapdoors. Sadly, there was little time to spend there, and we had to continue the journey after just 45 minutes. I would have spent half of the day there.
From here, the landscape truly started to get drier and more desertic. The south of Tunisia is a giant olive field, until you reach the Great South, where it's dry enough that the only thing that grows in the land are rocks. Hours later we arrived in Matmâta, the very famous troglodyte village of small holes in the ground. Although I was curious about being there, watching how organised and massive tourism has destroyed these Berber's ways of life dissapointed me greatly. Our guide stopped the bus in one of the pits, which was decorated with white and light blue. In the first room, an old woman was grinding something in a small, stone mill. The dwellers of the few pits still used by their original inhabitants now make a living by letting people into their homes and getting dinar as a payment for taking photographs. What the woman was doing was just a bit of theatre, part of the show. After this first room, we got into the middle of the pit, which had a series of other passages to some rooms, some of which were simply open so we could get in and have a look. I felt a little bit like violating someone's privacy, and wondered how much the house had changed in the last years.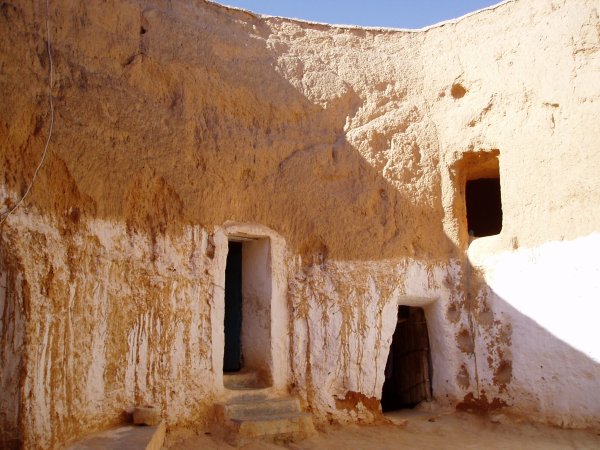 Inside a troglodyte underground house in Matmâta
After our visit, we continued up the mountains of Matmâta, and after going by a giant "WELCOME TO MATMATA" sign drawn in white in the middle of a mountain, Hollywood style (!), we stopped for a brief photo-stop (sic). Indeed, the view was quite impressive, and is universally famous as one of the filming spots of Tatoonie scenes in Star Wars: A New Hope. Speaking of famous places, a few minutes later we stopped at the top of one of the hills, were we'd have lunch in the Hotel Sidi Driss, a place of pilgrimage for Star Wars fans, as it was the troglodyte pit which served as the Skywalker's home. The place is full of references to the film saga, and one of the open pits is full of set pieces stuck into the walls. We were served couscous, which wasn't bad, but was cooked and served in the most genuine fast-food fashion. Everyone there gets couscous to eat, apparently, and it's the same in many other touristic places in the area.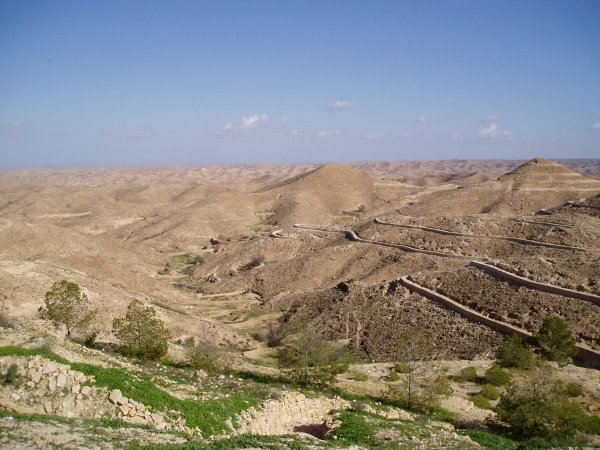 Matmâta's lunar landscape
From here, our journey headed straight West, in the middle of the rocky desert, until after some time, you could start to see lines of palm tree branches planted here and there, a sign that rocks would soon disappear, being replaced by sand and dunes. As when we were approaching El Djem, at some point a huge, dark spot appeared on the horizon.
Douz, probably named after some 12th French batallion which stayed there, is a small town in the very limit of the Sahara desert, built right next to a huge oasis, exclusively dedicated to palm tree plantations, making dates production a big source of income, along with, of course tourism. The travel agencies use Douz as the starting point for several-day trips into the desert, camel rides and stuff like this. Our guide offered us getting a camel and carriage ride in Tozeus for 20 dinar, but Belén and I declined. He didn't seem to be too happy about it, and had no problem commenting this in German and Arab with the driver (Spanisch and Spanien were clear to me). We learned that the agency (or the guide) makes around 3 Dinar for everyone who contracts the camel rides, after speaking to one native young kid who worked in the camel place. While our German trip mates got dressed in berber fashion, we opted to walk into the desert and play around in the sand on our own. I discovered a few desert insects which were unlike anything I've seen anywhere, and their diminute trails were all over the dunes. Looking West, the view was astonishing, with only thousands of kilometres of yellow dunes ahead us.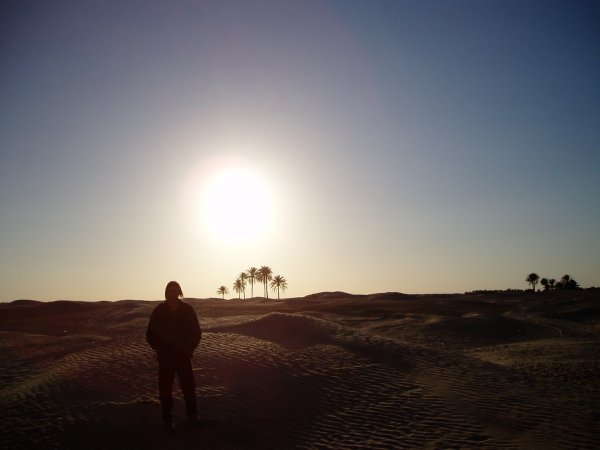 The evening sun over the dunes
After they came back, we were taken to our hotel, which was really impressive. After leaving our stuff in our room, we headed back to the desert, which was like 300 metres away, to see the sunset over the "Great Dune". There's a street which literally serves as the frontier between the rocky ground and the sand desert. From there, you could see many lines of palm tree branches, which are planted by locals in a futile attempt to stop the inexorable advance of the desert. Women in Douz and other towns in the desert limit spend their days sweeping the entrances to their homes, as sand gets in really fast. A small village next to Douz even had to be abandoned and rebuilt in some other place, with the old one being finally devoured by the dunes.
When it got dark, we still had some time to kill before dinner, and we discovered a hammam in our hotel. I got in, and saw there was a bored young man inside. He informed us about the prices, and after some short deliberation, we realised we'd spent half of the camel money in some Arab relaxation; while I got a really cool massage, Belén enjoyed a Turkish bath. I spoke to the guy for a while, and he said not that many people used that hammam. He actually handed the list of services since 2002, which easily fitted in one piece of paper. People don't know what they are missing; he explained that most of the hotel's clients just showed no interest in the baths. I wonder how Fins or Norwegians would react, given their sauna culture. The dinner and breakfast in that hotel was absolutely awesome, and I actually ate too much to have an easy sleep.
Next morning we had to be ready at 5:30. That's pushing my limits. The bus started crossing the Chott Jerid when it was still quite dark. The chotts are dry, salt lakes in the middle of the desert, which during some seasons do get some water, sometimes from the underground. The Chott Jerid is the biggest of the three chotts in the area, and the views are fantastic. It's like a giant, totally flat muddy sea which reflects light creating dangerous mirages of oasis-like dark patterns. Before the construction of the recent road that links Douz and Tozeur, crossing the chott was so risky that many people died in the attempt. We had the unique opportunity to see the sun rise over the salty horizon.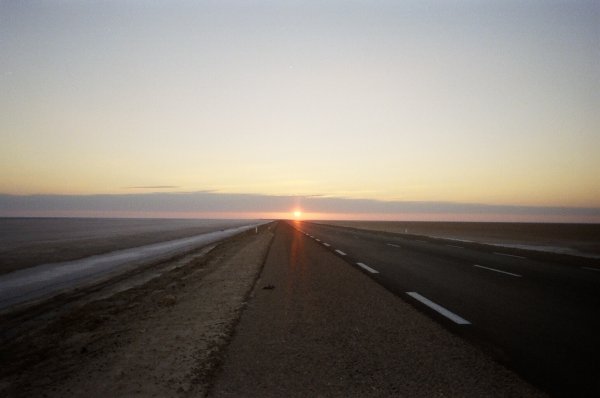 Sunrise at the Chott Jerid
Again, on our way to Tozeur, we were offered a carriage ride for ten dinar, and again we declined. The guide then asked us if we had no money or what. So in Tozeur we basically wanted to walk around the oasis fields, and ended up talking most of the time with some old man who sold drums and desert roses.
On a 4x4, we went up North to Chebika, a really cool town with a small oasis of thermal water, which I guess was around 40°C. The short walk to the wall where the oasis surfaced was packed with children who insistently begged for money or offered necklaces and other items. It was difficult to make them understand you didn't want anything. We then went up the mountain behind Chebika through a road which had its own piece of history. It seems that during WWII, Rommel suffered an Allied siege in Chebika, with a range of mountains behind their backs. The Allies gave him one month to surrender, and he took his time to answer. During that time, he ordered his engineers to design and build a road which would let them escape Chebika through the steep mountains, and they managed. When the ultimatum expired, the Allies apparently found out Chebika had been abandoned by the Germans, including tanks and most of their equipment. So, on the way up, a few kilometres away from the Algerian border, there was another typical visit to the biggest oasis waterfall in Tunisia, which was several metres high.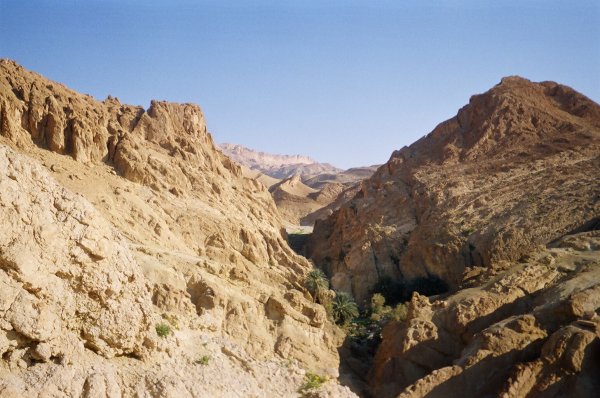 The oasis at Chebika
Our Sahara trip would soon end, and after lunch we headed Northeast on our way to Hammamet. On our way back, we stopped in Kairouan, one of the key Islam pilgrimace spots, with the Great Mosque as the biggest attraction. Unluckily, as we arrived after lunch, we didn't had a chance to see it. Apparently it is really impressive. We haggled a bit for a pair of babouches and a small leather couch in the medina.
We came back to our hotel around 7, and found most of the people around the hall. After the obligatory update on how it went, we went to bed as we were exhausted, and of course we had to get up really early to head to the airport. The airport was at that early time of the morning a total chaos, and while people stood in the checkin lines, I tried to find out what was going on with my still lost luggage.
I went back to the lost luggage window, which would be closed for 5 more minutes. When they finally opened, they told me once again they had no clue about what was going on with my luggage. I finally understood they had no clue: my tracking number wasn't in their database. I asked them if I could have a look at the unreclaimed luggage storage room. They kindly opened a small door for me, and invited me to go inside and have a look. The view was gross: hundreds of lost bags all over the place. As I was in a bit of a hurry (I actually had to get back to Barcelona), I asked him where to find the bags of one week ago, and he nearly bursted into laugher. Okay, I had to look all over the place, scanning every piece of luggage in an attempt to spot mine. There were bags of absolutely every type in there. In one of the corridors, I sensed a disgusting smell, and figured out some poor guy may have food or something in one of their lost bags, which was rotting in that horrible room. So wrong: soon after I found myself nearly stepping on a puddle of shit, as if someone had literally dumped it right there. Oh my... luckily my search was nearly over and unsuccessful, and I got back to Barcelona with the hope of finding my bag in El Prat. After looking in their two storage rooms I realised I'd probably not see the luggage again, which is a real pain in the ass.
A few hours of train later we were back in València, with a feeling of having spent 3 or 4 weeks in Tunisia, not just 8 days. Really a great place to visit, not only for their cultural treasures, both current and ancient, but for the openness of their people. I hope I'll be back at some point!