Weeks go by way too quickly lately, and GUADEC was suddenly here. So I finally got permission from work to attend, after managing to complete our milestone the required one week in advance.
So far, my first GUADEC has been fantastic. While I've tried to come here with my most "just relax" mentality and it's working pretty well, I've also tried to be around the conference for most of the day, as meeting people is, I believe, the best way to enjoy this kind of conferences. I'm staying with Josep and Jesús in one of the bungalows at the GNOME Village, which is a very nice place, althought it's a bit too far from the GUADEC site. There's a public bus service, but some days it's quite unreliable; luckily Fabrice is staying with us at the bungalow and he has a car which we can use.
An unplanned attendee was mako, who after being around the great CDG airport for the Ubuntu Conference in Paris, had a few spare days before returning to Boston and came down to Vilanova i la Geltrú for the warmup weekend and half of the first core day. Of course, having him around has introduced the usual randomness to those days.
Just after arriving in Vilanova, toniher drove us to the lighthouse area, where there were some big Sant Joan parties going in the middle of the beach. At 4AM, and after checking our flirting techniques are not too effective, we wandered off back to Vilanova Park, seeking some good sleep. In the meantime, Danilo Segan, from the Serbian team, apparently had a hard time finding a way to open his bungalow, and ended sleeping in ours as yet another guest.
Saturday morning was spent sleeping, and while we had breakfast, I put on my Komando CT training t-shirt. When mako saw it, he said "hey I have one of those!", which made me discover how kiko traded my other Komando t-shirt with mako during the Montréal conference. WTF! We headed back to Vilanova to get lunch and my talk about the Catalan GNOME localisation project. At 16:00 it's hard to get food in some places, and when we finally managed, my talk was so close we had no time at all to prepare.
Jordi Mas, Toni Hermoso and I spoke about our experience to a great audience of about 12 persons. Having decided what would each talk about two minutes before starting, I found myself with little to say at some points, but I guess the talk ended up being interesting, and we got a few interested people in assisting us with further translations.
After the conference we met with Bastien and several Debian UK people in one of the bars in the beach area, where we, just after getting in, could see how Argentina scored a fantastic goal against Mexico in extra time. A few beers later, it was time to sleep, but we still had to go through the transportation odyssey. I think we managed to get a taxi one and a half hours later.
Sunday has been the most intense day so far. Up at a reasonable time, mako, danilo and I planned going to spend the day at Sitges, one of the most famous towns in the Catalan coast which is just one train stop away. Mako was thrilled about the idea of visiting the Gay Capital of Southern Europe, and we set off for the train station.
Visiting Sitges was not meant to be too funny for me, but mostly quite emotional. My initial plan was to go alone during the week, but I figured that mako and others would really enjoy being in such a beautiful town as this one. Sitges is where my Catalan grandmother was born, and where she lived for much of her life. Some will remember that wrote about how important she was for me when she died one year ago. I hadn't been in Sitges for years already, and I feared my emotions when I went back to her house in the middle of the town.
We walked from the train station down to the Santiago Rusinyol street, while I tried to show them some of the details I always enjoy about Sitges, including the No embruteu les parets tiles which are all over the place. We arrived at my grandparent's place and we entered the house. Having danilo and mako with me probably helped to not get too many memories back, and also, seeing the house so dismantled, and empty of life made it hard to feel "at home".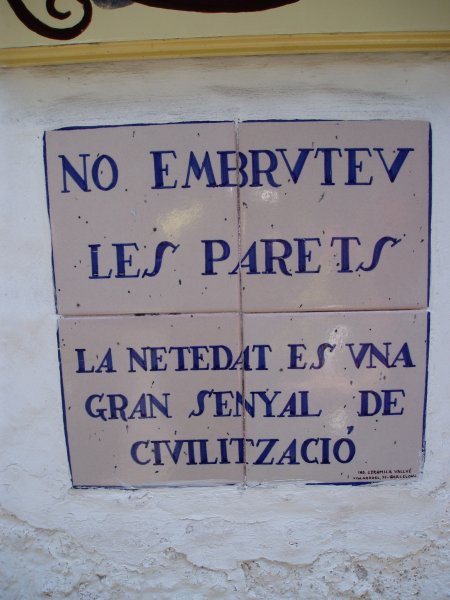 "Don't dirty the walls. Cleanness is a great signal of civilisation"
When we went down to the Platja de Sant Sebastià and I spoke to my cousin Bego on the phone I was unable to stop the tears when my grandma appeared in the conversation, though. That beach was her favourite, and I remember how she would take us to spend the day there when we were little more than babies.
I took danilo and mako around the town's center and enchanting corners, and after having lunch, we headed to the beach going through the "gay streets". At the beach, we had our share of sunbathing and swimming, and around 18:00 I told them we should probably head back to Vilanova, as I had to be ready to play football at 19:00.
We were lucky and the train arrived as soon as we got to the station, and also when Fabrice gave us a lift to the stadium with his car. The GNOME World Cup had already started, and someone had taken the last red shirt to substitute me, so I quickly neglected my ex-team and joined the Blue Team. We found ourselves in the final after a dramatic penalty kickout, to play against the mighty Black Team led by Bastien Nocera, who had *destroyed* the White Team with 16 goals or something equally insane.
It was a very even final, though, and after 40 minutes of non-stop running, our team scored the decisive goal just three minutes before the end.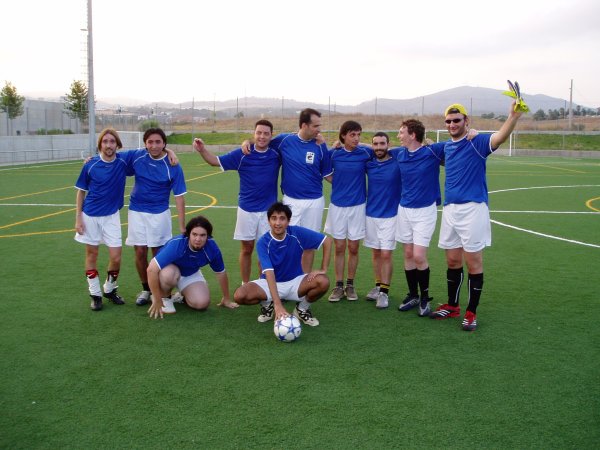 Champions!
The day would not end up there, as I had to meet my cousin Laia and her boyfriend Marc in Barcelona, to have dinner with them. So off I went, with a hurt calf and dressed like a tramp, to fetch yet another train. I had dinner at a nice place near the Plaça de Catalunya, and after that we were all so sleepy that we went straight to bed at my cousin's place, at 2AM or so. Then, there was the fight against the mosquitos at 4AM, and an early wake up to go back to Vilanova, in time for the grand opening of the Core GUADEC.