Last Saturday, a few team members, namedly Kike, Rafa, Komander Gabi and myself went in Gabi's autocaravan (popularly known as the MIR Space Station) to the coastal town of Torrevieja, in Alacant. The goal of this 3h trip was to participate in Torrevieja's Travesía a nado, a popular swimming event, where you have to swim 3.200 metres across the harbour, past and around the jetty and back to a small beach somewhere around the promenade.
As before, I went there with no swimming training at all, and with little hope of being able to finish all the distance. Besides, my left shoulder has been hurting a bit for the last two months, and I didn't know how it'd react to one hour of non-stop swimming.
The caravan arrived in Torrevieja at 21:30 or so, and we had our typical dehydrated pasta plate before going for a short walk around the promenade. After discovering the "hippie shops" had nothing interesting to offer, we decided to go back to sleep, as we'd be getting up quite early for the swim next morning. On the way back, we couldn't resist stopping by a icecream shop to have our dose.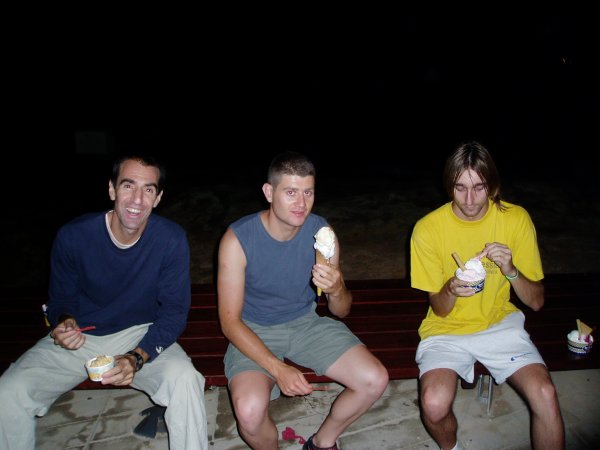 The triathletes prepare for their next adventure
Next morning we were quickly in the line to get our numbers marked on our arms, where we met Polo, our previous triathlon trainer, and after a walk around the harbour on bare feet, we were ready to start. Rafa's mission was to swim with me, as we both had trained little or not at all, but when the judge started the race, I didn't know exactly where Rafa was, so I was on my own for the whole swim.
Being so unfit after two seasons of training gives you a few weird feelings. First, as you slooooooowly swim on your way to the jetty end, you remember how much faster you swam just a few months before, and it makes you feel stupid. Second, stopping for two seconds, looking behind you and discovering there's only two or three people behind you makes you feel quite bad, or at least I'm not used to that...
As soon as I reached the jetty and entered open waters, the swim changed radically. There were big waves, in contrast to the totally calm water inside the harbour, and going up and down without control even made me feel dizzy while swimming. Drinking sea water at least five times didn't help either, as well as the pain in my shoulder getting worse and worse as I advanced. Half way or so, I was supossed to get away from the jetty and look for the beach, but everytime I looked up I couldn't find my way, so I just hoped a boat a few hundred metres away was involved in the event, and headed that way.
I finally arrived at the beach, completing the 3.200 metres in way too much time, but as the goal was to finish, I was pretty happy.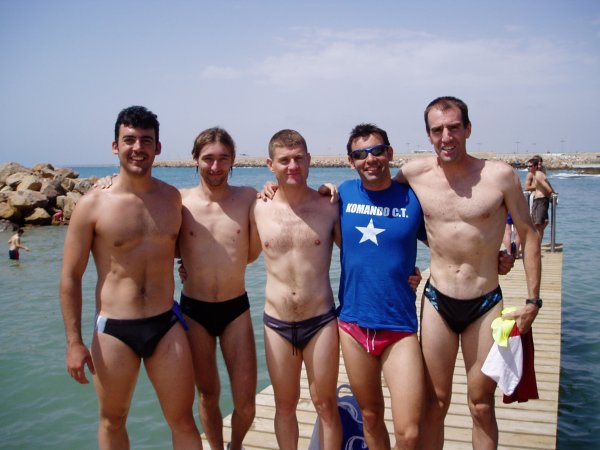 Our reward: seeing lots of half-naked men and burnt skin on our backs
The next untrained adventure is to row from Santa Pola to Tabarca and back, assisting my team mates who will swim the 6 kilometres that separate the nice island to Santa Pola's beaches.