For most of the past winter I've been trying my best to get back into a somewhat regular schedule of training. I have failed miserably.
At most, I've managed to go swimming at 7AM once or twice a week with my teammate Rafa, but I've been quite irregular. I also tried getting some running done, which revealed my condition is the worse in the last 7 years, probably. The first days I went running I felt I couldn't go faster than 4.5 mins/km without having my legs warn me about what I was doing. It was horrible. And when I started to get into the habit, I had to stop.
I started getting some pain in both knees whenever I ran more than 45/50 minutes, and I associated it to my weird knee "crack" I get after a while of cycling. So, in March or so, I decided to stop, frightened of the pain being a serious injury or something.
I wanted to visit a physiotherapist as soon as possible, but that only happened a few months later. I visited my teammate Jordi Reig in Alcoi, and after exploration, he deducted my knee problems probably come from the massive contractures in both quadriceps.
I was meant to start running again, adding minutes to the sessions progressively until reaching the problematic 50 minutes of pain. I've been so busy though, that I haven't been able to do anything in the last months, so I can't say how bad my quadriceps are now.
Two weeks ago, during the WarmUp Weekend in Vilanova, I got a bad kick on my calf during the semifinals game, and the day after even walking was painful. I had already signed up for the Bétera triathlon, so I thought I may not be able to finish it.
I signed up as I did with other competitions last year, with the goal of finishing and nothing more. This time, all my cycling training was a 40km stage I did back in December. Bétera is a sprint with swimming done in a 50m pool, 27kms of cycling in an irregular circuit and a bit more of 5kms of running around the town. It is organised by our team mate Jordi Jordà, and this year was the second edition. I already attended last year.
On Sunday, I had to wake up at 6:10AM after going to bed at 3 or so, had some chaotic breakfast and drove up to Bétera. This year I haven't got a triathlon licence, so I was in the teamless and veteran people leg.
The judges made us wait in the water for nearly half an hour, apparently because one team was missing and was about to arrive. They could have warned and I wouldn't have frozen in there. The people in my lane tried to organise the start of the race, in order of what people said they swam. As the older people claimed they swam in 14m or so, and I had no idea of how much I would do, I offered to go last.
Ok, that was a fuckup. It seems the 4 guys immediately before me weren't exactly van den Hoogenband or Phelps. After the first 100 metres I got tired of swimming at half speed and decidedd to overcome a few of them. I managed to get rid of two on the 350, but when I tried with the third, he didn't seem too cooperate too much, so when there were just 200 metres left I decided to not waste more energy on that. My swimming time wasn't spectacular, but at least I got out without being tired at all.
Cycling made me remember my biggest problem when there's some climbing in the circuit. I climb very well, but everything you climb you'll have to descend eventually. So the three laps were the same: I passed many people on the way up, but on our way down they would go past me again like rockets, due to my minimal body weight. That sucks.
At this point, I thought I would have abandoned the race due to my calf injury, but as I was feeling more or less ok, I decided to give it a try. The first lap of two wasn't so good, I felt my legs weren't used to the transitions, but after they warmed up a bit I started running faster. Until, 1.5kms away from the end, the quadriceps started warning me; I had to slow down again until I crossed the finish line.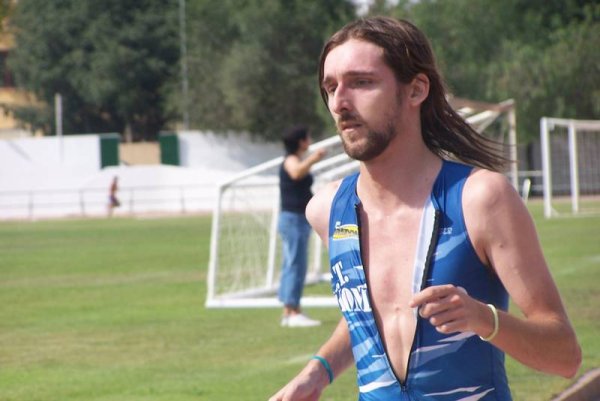 I would look more like an athlete if I shaved...
The rest of the team did pretty well on their leg, specially Rubén who came in third after having raced on Friday night. A few hours and many children races later, we received the team award for the Komando's second place.

Everyone loves the Komando. Go Komando!
It always feels good to do races like Bétera. I plan doing a few more races this summer: València, Pinedo, maybe Antella, maybe Cuenca...