When I returned from the first FOSDEM edition I attended, I wrote that I had liked and enjoyed that weekend in Brussels so much, that this conference had probably become a "must".
It seems I was right. Five years later, I'm delighted to say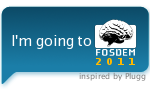 I'm happy to meet so many friends from the Debian, GNOME or GNU projects, and enjoy the kindness of our hosts in Brussels, Raül and Virginia. And I'm looking forward to the awesome beer, the excellent talks and discussions, and that unique FOSDEM atmosphere that makes this so special. This year, FOSDEM has the bonus of being able to enjoy the Debian "squeeze" 6.0 release as it happens, with many of the people who made it possible, and celebrate this on Saturday night. See you there!